LUFFA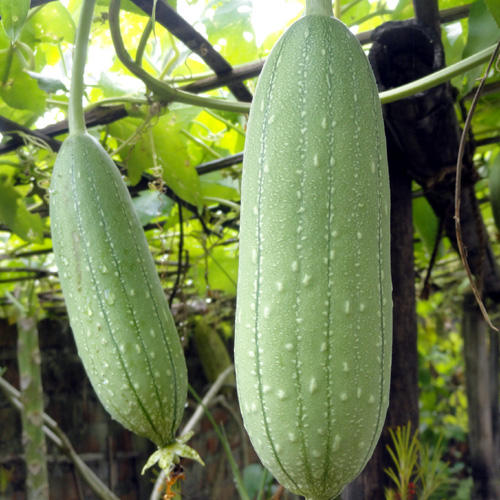 When fully mature, this edible gourd grows into a sponge that you can use in the kitchen or bathroom! But, when it is still young and green, it is a nutritious food popular throughout all of Asia. There are different types of luffas, including the ridge gourd, which has sharp ridges all around the fruit. These gourds are known to be anti-inflammatory and can also help regulate high blood sugar levels. They are delicious in soups and curries, are often battered and fried as a snack, and can be simply sauteed or stir-fried (see below).
RECIPE: Stir Fried Ridge Gourd or Luffa (serves 2-4)
Ingredients:
1 long or 2 short gourds
1 onion or 2 garlic cloves
2-3 tbsp olive or other cooking oil
salt, to taste
a pinch of turmeric powder
a pinch of coriander powder
a pinch of mustard seeds (optional)
a hot chile, chopped (optional)
3-5 eggs
Method:
Start by peeling your gourd. If your ridge gourd has tough ridges, be sure to peel them off. Chop it up into bite-size pieces. Also chop up an onion or a few garlic cloves. Heat a skillet over medium heat and add a tablespoon or so of oil. Add some mustard seeds (if you have them) and some chiles (if you want heat) and then your onions or garlic. After a minute, or once onions have browned a little, add your chopped up gourd and a pinch of turmeric powder, a pinch of coriander powder and some salt. Stir and let cook until gourd is fully tender. Scramble eggs and stir them in until cooked.