RED CHOY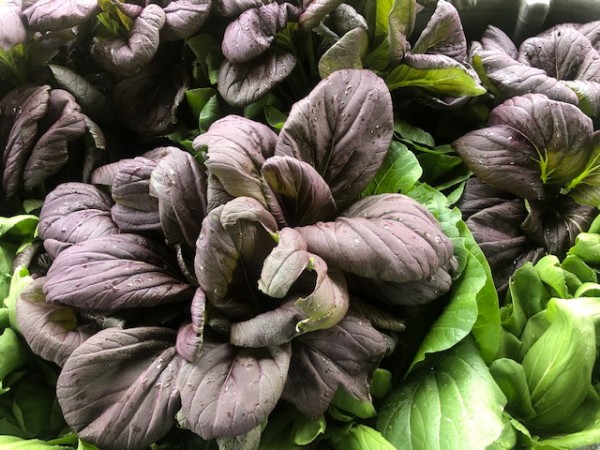 Red choy (also known as purple choy) can be cooked like bok choy. This vegetable is very common throughout Asia and is cold tolerant (the purple color actually intensifies with the cold!). It's great in soups and stir fries (like the recipe below). You can add any protein you'd like to this dish, including pork, chicken, egg or tofu. All Asian greens can be chopped up, crunchy stems and all, and sauteed or stir-fried. They are tasty with garlic, ginger, and chilies in a stir-fry, curried with coconut, or cooked in broth. Not feeling stir fry or curry? Just pretend they're raab or spinach and make this green panini or this go-to pasta with greens and garlic. Just remember that it's a tender green, so be sure not to overcook it!
PRO TIP: If you're stir frying meat, slice it beforehand and mix it with some tapioca starch. It helps break it down and makes it softer. You only need about 1 teaspoon per cup of meat.
STORAGE: Store Asian greens in an open bag in your refrigerator for several days or up to one week.
RECIPE: A super simple stir fry for red choy

Ingredients:
1 tablespoon vegetable oil
2 cloves of garlic, minced
3 cups purple choy, sliced into 2 inch pieces
1 tablespoon oyster sauce
2 tablespoons water
1 tsp sugar (or to taste)
salt source (salt, fish sauce, or soy sauce - to taste)

Method:
1. Preheat a wok to medium/high heat. Add the tablespoon of oil.
2. If you are adding a protein, cook that first. You'll want to put garlic into the hot oil. Stir it until it starts to smell really good- it should take 30 seconds. Then add sliced meat or tofu. You might need to add a little bit of water if it gets too dry in the wok.
3. When cooking the red choy, add oil to the hot pan and let it heat up.
4. Add the garlic to the pan. Cook it until it smells good (about 30 seconds).
5. Add the red choy. Then add the oyster sauce, water, and sugar. Mix it until the purple choy wilts.
6. Serve it with steamed white rice and add as much salt as you want.