Seminole Squash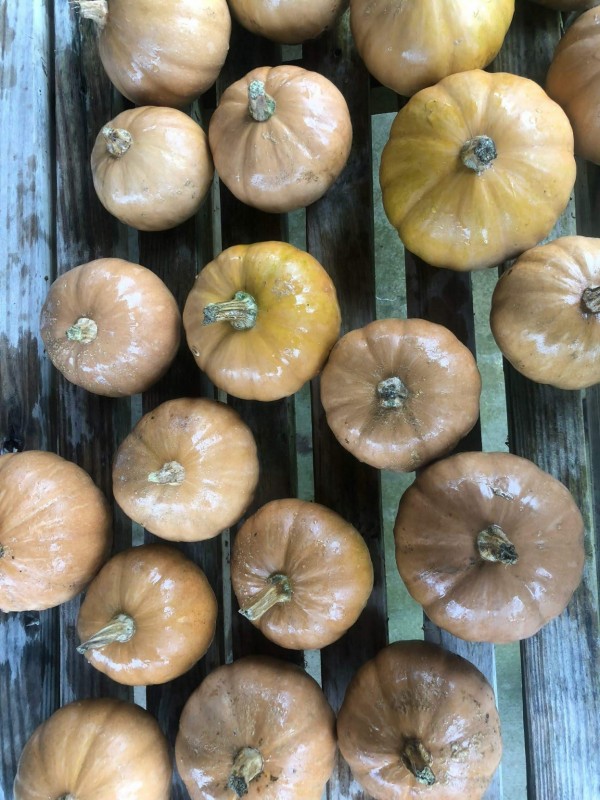 In addition to Asian varieties of pumpkins, our farmers grow Seminole squash. They are an heirloom variety very similar to a butternut squash. When it comes time to cook them, find the biggest, sharpest knife you have and carefully slice it in half, scoop out the seeds (roast them, see recipe), peel it (if you prefer no skin) and cut it into wedges or chunks. Delicious roasted with olive oil and salt, made into a soup, a chickpea curry, or galette.

CSA member Jen Boehm toasts her squash/pumpkin seeds this way and they are especially delicious:
Seeds from one pumpkin
1/2 tbsp olive oil
1/4 tsp salt
*1/2 tsp spices of your choice (optional)
Preheat oven to 300 degrees. Separate the seeds from the pulp of the pumpkin and place in a colander. Rinse away any remaining pulp and shake the seeds to dry them a bit. Put them on a foil-lined baking sheet in a single layer and bake for 30 minutes. Remove from the oven and place in a bowl with the olive oil, salt, and spices. Toss to make sure they're all nicely coated and return to the baking sheet. Roast for 15-20 minutes more.
*I like mine spicy, so I use half cayenne pepper and half garlic powder. If you want a sweet and salty snack, try brown sugar and cinnamon. When my mom makes them, she just uses salt and pepper.
STORAGE:
If your pumpkin/squash is green, this means it was intentionally picked immature and will be tastiest eaten within a week or two.
If it is a creamy/tan color, then it is mature and will store on your counter for weeks, if not longer.
If it is cut in half, then it was a very large pumpkin that your farmer divided. Store the cut pumpkin in the fridge for up to one week.
Recipe from the farm:
Roasted Squash Salad with Warm Cider Vinaigrette
Serves 2-4
Now that fall weather is finally here, it is a perfect time for squash dishes. Roast your squash or pumpkin and keep it in the fridge for whatever meals the week holds. Grain bowls, panzanellas, or a big beautiful salad like this one.
Ingredients:
1 squash or pumpkin, peeled and 3/4-inch diced
a good glug or two of olive oil
1 tablespoon maple syrup
Kosher salt and freshly ground black pepper
3/4 cup apple cider
2 tablespoons cider vinegar
2 tablespoons minced shallots
2 teaspoons Dijon mustard
1 bag arugula or salad mix
1/2 cup walnuts or pumpkin seeds, toasted
3/4 cup fresh grated Parmesan cheese or goat cheese
VARIATIONS: add sauteed mushrooms, roasted turnips or radishes
Method:
Preheat the oven to 400.
Place the squash on a sheet pan. Add 2 tablespoons olive oil, the maple syrup, 1 teaspoon salt, a grind of pepper and toss. Roast the squash for 15-20 minutes, turning once, until fully tender and edges are beginning to brown.

Toast the nuts or seeds.
While the squash is roasting, combine the apple cider, vinegar, and shallots in a small saucepan and bring to a boil over medium-high heat. Cook for 6 to 8 minutes, until the cider is reduced to about ¼ cup. Off the heat, whisk in the mustard, ½ cup olive oil, 1 teaspoon salt, and several grinds of pepper.
Place the salad greens in a large salad bowl and add the roasted squash, the seeds or walnuts, and the cheese. Toss the vinaigrette with the salad until fully combined. Taste and adjust salt and acid.