WINGED BEAN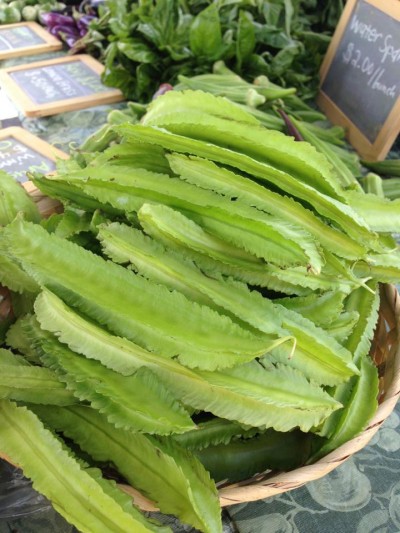 Did you know?
Almost every part of this unique plant is tasty and edible. The fresh young pods are similar to green beans with a chewy texture and a slightly sweet taste. When cooked, the leaves taste like spinach and the flowers like mushrooms. The firm-fleshed roots have a nutty flavor. These beans are very high in protein.
Stir-Fried Winged Beans (Kacang Botol) with Tomato and Garlic
Vegetarian, vegan, and gluten-free
Serves 4 as a side dish

INGREDIENTS:
1/4 cup vegetable oil
6 cloves garlic, thinly sliced
dried red chiles, to taste
1 pound winged beans (kacang botol), cut into bite-sized lengths
1/2 teaspoon Kosher salt
1 large tomato, diced
1 tablespoon soy sauce (gluten-free if needed)
1 teaspoon toasted sesame oil
DIRECTIONS:
1. Heat a wok or your largest skillet over maximum heat. Add the oil, and when it is shimering, add the garlic and chilis. Stir-fry for ten seconds, without burning, and immediately add the winged beans and salt.
2. Stir-fry for about 30 seconds, until the beans brighten in color.
3. Add the tomatoes and stir-fry about 30 more seconds, until the tomatoes just slightly begin to break down and form a sauce. Remove from heat.
4. Stir in the soy sauce and toasted sesame oil. Taste and adjust seasoning and serve immediately.