Cabbage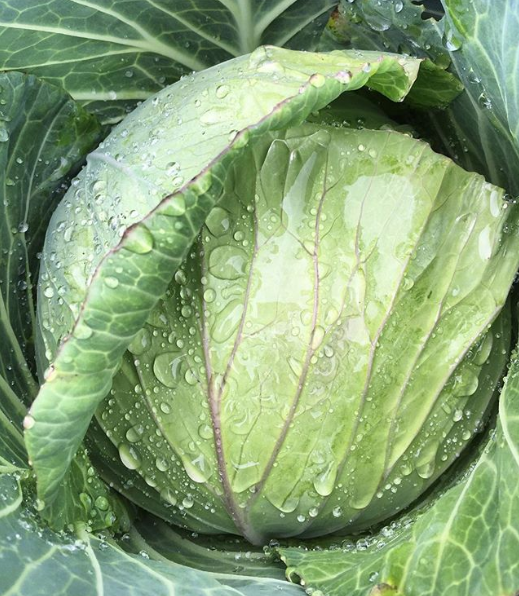 Credit: Tha Dah
Storing Cabbage:
The wonderful thing about cabbage is that it stores for such a long time! Winter cabbage is even more special because the plant protects itself from freezing temperatures by converting the starches in its cells to sugar, sweetening the flavor of the cabbage. Wait until you are ready to use the cabbage before washing it. Store a whole cabbage head in a plastic bag in the crisper drawer of your refrigerator. Cabbages can store in optimum conditions up to a month-- sometimes longer! If you only use part of the cabbage, be sure to wrap the remaining cabbage tightly in plastic wrap and store it in the crisper drawer. Use within one to two weeks.
Recipe from the farm:
Spicy Stir-Fried Cabbage
from New York Times Cooking
https://cooking.nytimes.com/recipes/1013335-spicy-stir-fried-cabbage
Ingredients:
4 garlic cloves, minced

2 teaspoons minced ginger

½ teaspoon red pepper flakes

1 star anise, broken in half

2 teaspoons soy sauce (more to taste)

2 tablespoons Shao Hsing rice wine or dry sherry

2 tablespoons peanut or canola oil

1 small cabbage, 1 to 1 1/2 pounds, quartered, cored and cut crosswise into 1/8-inch shreds

1 medium carrot, cut into julienne

Salt to taste

2 tablespoons minced chives, Chinese chives or cilantro
Method:
Combine the garlic, ginger, red pepper flakes and star anise in a small bowl. Combine the soy sauce and wine or sherry in another small bowl.

Heat a 14-inch flat-bottomed wok or a 12-inch skillet over high heat until a drop of water evaporates within a second or two when added to the pan. Swirl in the oil by adding it to the sides of the pan and tilting it back and forth. Add the garlic, ginger, pepper flakes and star anise. Stir-fry for a few seconds, just until fragrant, then add the cabbage and carrots. Stir-fry for one to two minutes until the cabbage begins to wilt, then add the salt and wine/soy sauce mixture. Cover and cook over high heat for one minute until just wilted. Uncover and stir-fry for another 30 seconds, then stir in the chives or cilantro and remove from the heat. The cabbage should be crisp-tender. Serve with rice or noodles.