Kelly Owensby
Executive Director
Kelly began working in sustainable agriculture in 2005 after graduating from UNC-CH with a degree in cultural studies. She worked on eight vegetable and flower farms in N.C. before shifting her work towards community development and starting Transplanting Traditions Community Farm in 2010. Over the past eight years she has grown Transplanting Traditions from ½ acre to 8 acres and helped the project grow to national recognition. She is particularly interested in how Transplanting Traditions is a platform to uplift and share cultural traditions around farming and food, foster community and psycho-social well-being and provide a space for the refugee community from Burma to re-create home and meaning after the difficult upheaval of re-settlement. Outside of Transplanting Traditions, she plays the surdo drum in Batala Durham and loves building, cooking and creating.
kowensby@transplantingtraditions.org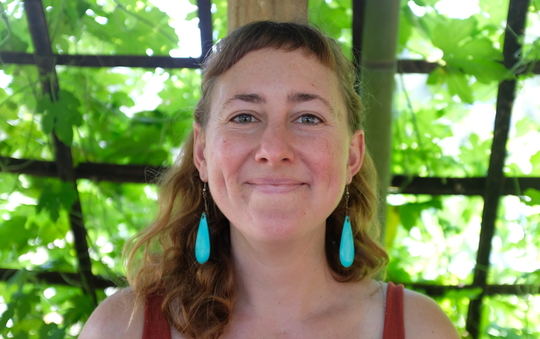 Elly Goetz
Associate Director
Elly, a North Carolina native, has a BA in Sociology from the University of Colorado, and a MA in Regional Planning from Pratt Institute. Elly's early career was in the education field, first as a faculty and staff member at the University of Colorado and thereafter teaching English as a Second Language abroad and in the U.S. Post graduate school, Elly was hired as the first Executive Director of Un Mundo, a grassroots organization based in rural Honduras, where she led the organization for 8 years from its incubation to now a robust regional initiative with a wide range of programs serving more than 28 communities and close to 10,000 individuals each year. Her experience living and working in Honduras sparked her interest in sustainable agriculture as a social justice tool. In 2015, she relocated back to North Carolina and stepped into the role of Executive Director at Benevolence Farm, guiding the organization to successfully launch as a residential and agricultural social enterprise program that serves formerly incarcerated women. In addition to serving in Executive Director roles, Elly has also been a consultant with many grassroots organizations throughout Central America and the U.S. particularly working most closely with indigenous groups, farmers, and migrant groups. Elly has been involved with TTCF since 2015, initially serving as a member of the advisory board when TTCF was under OCPYC and later on the first TTCF Board of Directors. Elly lives in Durham with her husband Elias and daughter, Micaela. When not working at TTCF she spends most of her time hiking at the Eno, biking around Durham or dancing around the kitchen.
egoetz@transplantingtraditions.org

Betsy Jackson
Farm Manager
Betsy has been a lifelong lover of nature, but she did not discover her passion for growing plants until she began gardening as an adult. Previous to turning this passion into her life's work, Betsy earned a master's degree in social work and worked in the mental health field.
When she moved to the central coast of California, she began working on an organic farm, at first growing vegetables and fruit and eventually growing cut flowers. The beauty of both the flowers and the vegetables, the magic of cultivating life, and the energy of working outside confirmed for Betsy that she had found her true vocation as a farmer. Desiring to explore sustainable farming's connection to social justice and the food system, she earned a Certificate in Ecological Horticulture from the UC Santa Cruz Farm and Gardens. She returned to the east coast to apprentice under another veteran organic vegetable farmer in the Hudson Valley, and then worked for two years on a farm in the northwest Connecticut, growing and designing with cut flowers and managing a homestead-scale vegetable and berry operation.
As she enters her seventh year of farming, she is excited to join the team at TTCF. She looks forward to building relationships with the farmers, learning from them, sharing her knowledge and experience, and fostering a sense of community, support, and growth.
bjackson@transplantingtraditions.org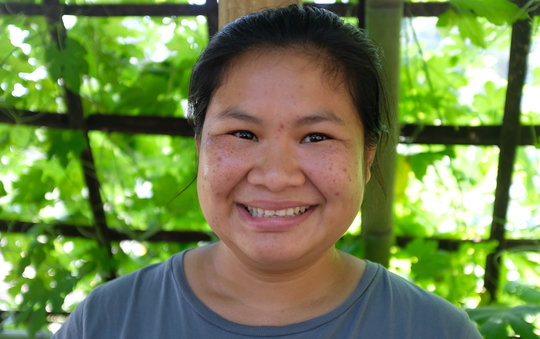 Moo Kho Paw
Greenhouse & Supplies Crew Manager
We are incredibly lucky to have hired Moo Kho Paw as a Greenhouse and Supplies Manager. She is in charge of starting seeds, taking care of the greenhouse plants, and collecting seed and supplies orders from farmers. She is excited to learn more about growing in cold weather and achieving 99% germination through her position.
Moo Kho is farmer Tri Sa's eldest daughter, and in 2018, she began growing flowers in her mother's plot. When she's not growing flowers or working as a farm manager, Moo Kho is helping her mother harvest for CSA shares and for market. In her free time she likes to cook and hike, and especially enjoys camping and rafting in the mountains.
mookhopaw@transplantingtraditions.org
Paw Moo
Greenhouse Manager
Paw Moo loves being Greenhouse Manager because she gets to help TTCF staff and other farmers by getting seeds and plants ready for them. She gets to work outside on beautiful days, and inside the greenhouse when it's not so nice out. Sometimes her father, mother, husband, and niece come to the farm to visit and to help. Her favorite thing to grow is spicy peppers. She loves them very hot! Her friend gave her some special seeds and they are the best that she has found.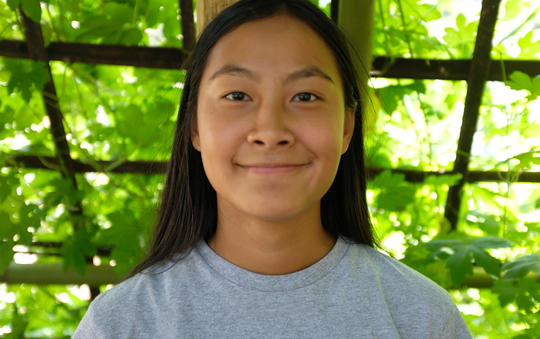 Talar Hso
Youth Program Coordinator
Talar first came to TTCF when her family began farming here. She participated in the youth program for two years before becoming the Youth Program Coordinator during her third year. In her role she helps plan and lead cooking demos at the farmers market, tours at the farm, and workshops or trainings for the youth, and serves as a liaison between TTCF and the youth. She has enjoyed seeing behind the scenes of TTCF and has a greater appreciation for all the work that goes into the programming. She has found that TTCF has helped her learn more about and better tell her story of being a Karen refugee. When she is not at the farm, Talar is a busy junior at Cedar Ridge High School in Hillsborough. In her free time she likes to hang out with her friends and play soccer. Her favorite food is her mother's coconut curry with Thai eggplant and chicken.
Sara Snyder
Educational Programs Coordinator
Sara grew up in eastern NC. She recently graduated from Duke University with a BS in Environmental Science and hopped a city over to work at TTCF. In her role she helps build organizational capacity and she is excited to learn so much about Asian vegetables! Before coming to TTCF, she worked at the Duke Campus Farm and Somerset Farm. Her favorite vegetable is okra and she loves using it to thicken soups!
s.snyder@transplantingtraditions.org