CARROTS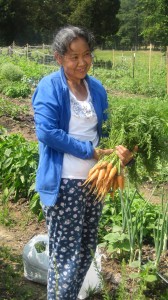 Save those beautiful carrot tops!! You can eat them too :D
Recipe from the farm:
Noodles with Sauce of Carrot Tops, Radish Greens and Yogurt
Wondering what to do with those beautiful carrot and radish tops you've been receiving in your box? Here's a recipe from Deborah Madison's Vegetarian Suppers. Many thanks to our CSA member Rabbi Jen Feldman for sending this our way! She also shared this helpful link for even more ideas!
Ingredients:
1 bunch of spinach (about 4 cups packed loose leaves)
Tops from 1 or 2 bunches of carrots, leaves stripped from stems
Leaves from 1 bunch of radishes
1 small bunch of cilantro, stems included, chopped (about 1 cup)
a handful of dill
4 lovage or celery leaves
1 cup whole-milk yogurt or sour cream
1 T. olive oil
1 jalapeno chile, seeded and chopped
1/4 white onion, thinly sliced
sea salt
3/4 pound spaghetti or linguine
1/2 c. pine nuts
crumbled feta or Manouri cheese
**Variation: In place of feta and pine nuts, halve a pint of cherry tomatoes, toss them with minced jalepeno, cilantro and a little lime juice and set them aside to come to room temperature while you make the dish. Spoon them over the pasta just before serving.
Method:
1. Sort through the greens and discard any funky-looking leaves. Wash and chop them coarsely. Pour the yogurt into a fine-mesh strainer or cheesecloth to drain. Heat a large pot of salted water for the pasta.

2. Heat the oil in a wide nonstick skillet. Add the jalapeño and onion and cook over medium heat, stirring occasionally, for a few minutes or until the onion turns translucent. Next rinse the greens and herbs and add them to the skillet with the water clinging to their leaves. Sprinkle with 1 teaspon salt and cook until wilted, turning them with a pair of tongs after 3 or 4 minutes. Puree with the drained yogurt, then transfer the mixture to a large skillet. Turn the heat on low to warm the yogurt. Don't get it too hot or it will curdle.

3. Cook the pasta in the salted water until al dente, then drain. While it is cooking, toast the pine nuts in a small skillet until golden. Add the pasta to the sauce, toss well, and salt to taste. Scatter the cheese and pine nuts over the top.