CUCUMBER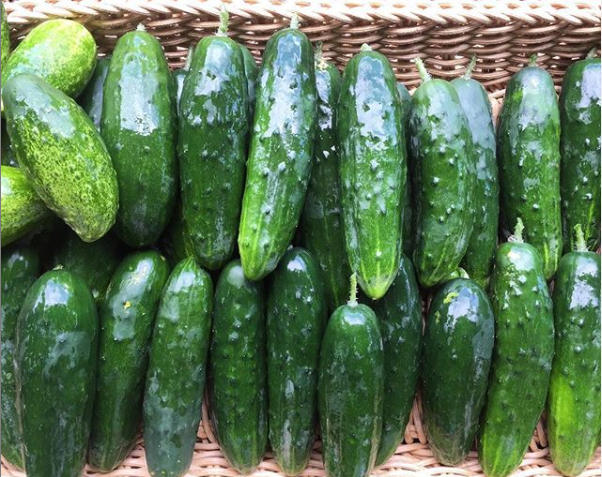 Credit: Thadah Wah
Cucumbers are 95% water, which makes them one of the most hydrating and cooling foods we can eat. They are also rich in anti-inflammatory flavonols and B vitamins, which help us to manage stress. TTCF farmers love them and grow a lot of their own special varieties for as long as they possibly can in this climate that can be tough on organically grown cucurbits.
RECIPE: Tri Sa's Cucumber and Lemon Basil Salad
Note: Feel free to use whatever herbs you have---mint, cilantro, Italian basil, lemon basil.
Slice one large cucumber or two medium cucumbers into thin half moons or rounds. Place in a medium bowl and sprinkle with salt and a touch of sugar. Slice an onion thinly and heat a skillet over medium heat. Add a couple tablespoons of olive oil to the pan and once warm, your onion. Saute until fully tender and beginning to caramelize(should take on some color). Meanwhile, toast a handful of peanuts and/or sesame seeds in a dry skillet over medium low heat until fragrant (careful not to burn!). Also, pick your herbs off their stems and chop. Once onion is ready, toss with the cucumber in its bowl and add the chopped herbs and toasted peanuts or sesame seeds. Taste for oil and salt. If you like, you can add some vinegar or lemon or lime juice.
RECIPE: TTCF Farmers' Cucumber Soup
Ingredients:
1 cucumber
1 small onion or shallot
1 tablespoon of cooking oil
Salt
2 cups of water
Method:
1. Wash the cucumber, peel the skin and slice into very thin circles.
2. Chop the shallot into small pieces.
3. Heat up the oil in a pot, add the shallot and cucumber, and saute them until soft.
4. Add salt to taste.
5. Add water to the pot and cook until warm through. The soup should be eaten warm by itself or with rice.
MORE RECIPES:
Classic Cucumber and Tomato Salad