EGGPLANT (Globe and Asian)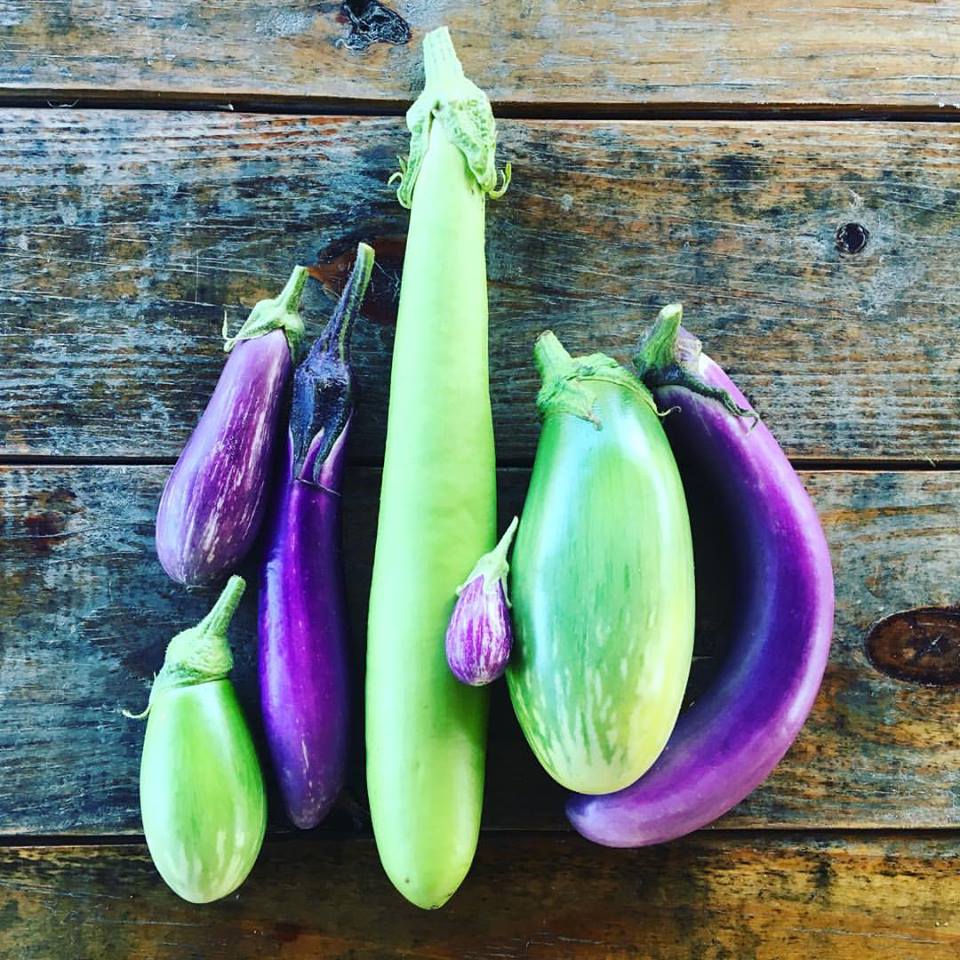 Photo credit: Thadah
TTCF farmers grow a wide variety of eggplant, from tiny pea-sized bitter eggplant to small fairy tale eggplant to long, Japanese eggplant to larger globe eggplant. They are all delicious and surprisingly far more nutritious than most people believe (they are especially prized for lowering risk of heart disease). Keep it simple and try eggplant roasted in cubes or in thick slices and then dressed in fish sauce vinaigrette (see recipe below) or turn it into roasted eggplant salad with almonds and goat cheese. Make it into a sauce or dip with this eggplant tomato sauce over polenta, this baba ghanoush recipe or eggplant caviar with toast or pita. Or cook it into an Indian curry with tomatoes or a Thai Coconut Curry with Lemongrass. Last year, one of our CSA members loved making eggplant jam!
STORAGE: Keep eggplant in an open bag in your fridge for several days, if not longer.
RECIPE: Roasted Eggplant with Fish Sauce Vinaigrette (serves 2-4)
Watch out: this simple vinaigrette is highly addictive. Originally from Momofuku in NYC, it is a perfect mix of salty, sweet and sour and brightens up pretty much any vegetable you can think of. In addition to eggplant, it's great in a salad dressing or on roasted radishes, cauliflower, or brussel sprouts. Fish sauce is a great condiment to have on hand if you like cooking with Asian flavors. We like Red Boatfish sauce which is available at Whole Foods, Li Mings, or the little Burmese grocery in Carrboro Plaza. One little bottle will last for ages. If you'd rather skip the fish sauce, then go ahead. Make the dressing without it or skip the dressing and simply toss the roasted eggplant with something acidic (lemon or lime or vinegar) before serving.
For the eggplant:
1-1 ¼ lbs eggplant
At least 3 tbsp olive oil
Salt, to taste
Cilantro, chopped (for optional garnish)
For the vinaigrette: makes about 1 cup, keeps in the fridge for at least a week
½ cup fish sauce
¼ cup water
2 tbsp rice wine vinegar
Juice of 1 lime
¼ cup sugar
1 garlic clove, minced
1-3 tiny hot chiles, thinly sliced
Heat the oven to 425. Cut the stem end off your eggplants and cube them. Place on a baking sheet and toss with olive oil and salt. Roast for 15 minutes. Take them out and give them a stir. Roast for another 15 minutes or so, until eggplant is meltingly tender and nicely browned. While roasting, make the vinaigrette: combine everything in a jar and shake. While eggplant is still hot out of the oven, toss with some of the dressing. Once it's delicious, that's enough dressing. Usually we have a little leftover for salad another day. Serve warm or at room temperature, alone or over a grain or salad. Chopped cilantro is a great addition. Thank you and enjoy!
~~~
RECIPE: Eggplant Lemongrass Curry (serves 3-4)

The Transplanting Traditions teens love to make this recipe. It may seem daunting to make a true curry paste from scratch, but once you do, there's no looking back.
Ingredients:
3 Thai hot chilis, deseeded and chopped
6 garlic cloves, roughly chopped
2 inch knob of fresh ginger, peeled and chopped
2 lemongrass stalks, trimmed and chopped
2 tbsp ground turmeric
2-3 eggplants (1.5 lbs), quartered lengthways, then halved
1 tbsp olive oil
1 tbsp sugar
6 small shallots or 1 medium onion, finely chopped
1 tbsp fish sauce
14 oz can coconut milk
14 oz broth or water
cilantro, roughly chopped
Method:
Prepare the lemongrass: Peel off the outermost layers of the lemongrass and cut off the top portion of the stalk. Save these pieces to add to stock or to steep in boiling water for a tea. The remaining core of the stalk should be whitish and fragrant. Chop this up before making your curry paste.

Using a mortar and pestle or food processor, make a coarse paste of chilies, garlic, ginger and lemongrass.

Rub turmeric all over eggplant wedges. Heat oil in wok or frying pan and brown eggplants. Set aside.

Cook the paste, sugar and shallots for a few minutes and return eggplants to the pan. Add the fish sauce, coconut milk and stock or water, mix well, and bring liquid to a boil.

Reduce heat and cook gently until the eggplant is tender but not mushy---about 15 minutes. Season to taste and sprinkle with cilantro. Serve with rice.