LEEKS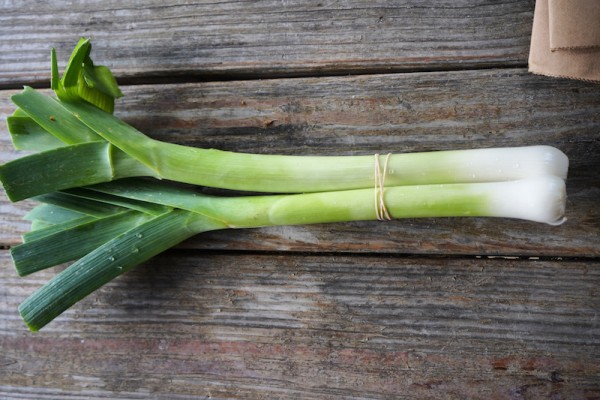 Photo credit: Thadah
Leeks have a mild onion-like taste. In its raw state, the vegetable is crunchy and firm. The edible portions of the leek are the white base of the leaves (above the roots and stem base), the light green parts, and to a lesser extent the dark green parts of the leaves. One of the most popular uses is for adding flavor to stock. Most people discard the dark green portion because it has a tough texture, but it can be sauteed or added to stock.
Some great ways to prepare leeks include boiling them, turning them soft and giving them a mild flavor; frying them, leaving them with a crunchier texture and bolder taste; or just eat them raw in a salad!
RECIPE: Potato and Leek Frittata from allrecipes.com (serves 6)
Ingredients:
1 tablespoon butter
2 leeks, white and light-green parts thinly sliced
2 cups shredded potato
8 eggs
1/2 cup shredded mozzarella cheese
1/2 cup grated Parmesan-Reggiano cheese
salt and ground black pepper to taste
Directions:
1. Preheat oven to 350 degrees F (175 degrees C). Grease a 9×9-inch baking dish.
2. Heat butter in a skillet over medium heat; cook and stir leeks and potato in the melted butter until softened, 8 to 10 minutes. Spoon leek mixture into the prepared baking dish.
3. Beat eggs, mozzarella cheese, Parmesan-Reggiano cheese, salt, and pepper together in a bowl. 4. Pour egg mixture over leek mixture.
5. Bake in the preheated oven until eggs are set, 20 to 25 minutes.