NAPA CABBAGE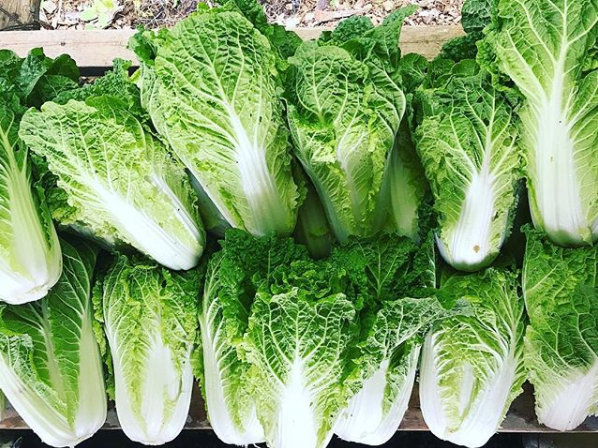 Credit: Tha Dah
Napa cabbage, often known as "Chinese cabbage," originates near the Beijing region of China and is highly sought after in East Asian cuisine for its sweet, crunchy, celery-flavored leaves. It is a cool season annual vegetable that grows best when the days are short and mild. Ours is a loose-leafed Chinese cabbage. Mild in flavor, this cabbage can be eaten raw in salads or slaw, pickled in kimchi, or lightly cooked in stir-fries with soba noodles or rice or in soup. Napa cabbage is a great healthy choice as it is low in calories and high in antioxidants, vitamin C, and vitamin K.

Roasted Napa Cabbage
serves two
This is a great, easy side dish to just about anything…chicken, pork, etc. The roasting carmelizes the sugar in the cabbage and develops a rich deep flavor. Adapted from 'The Everything Cooking for Two Cookbook'.
INGREDIENTS:
• 6 tablespoons vegetable oil
• 2 garlic cloves, crushed
• 6 cups napa cabbage, roughly shredded
• salt, to taste
• pepper, to taste
DIRECTIONS:
Heat the oil in a skillet on low; add the garlic cloves and cook very gently for 15 minutes. Discard the garlic and toss the cabbage with the oil, salt and pepper.
Preheat your oven to 450°.
Place the cabbage on a baking sheet and bake for about 15 minutes or until the tops of the cabbage pieces are browned.
Serve hot.
http://www.food.com/recipe/roasted-napa-cabbage-283763
Recipe from the farm:
Napa Cabbage Slaw
Serves 4
If I'm not making kimchi with Napa Cabbage, I usually turn it into an Asian style slaw or salad. If you're not a fan of heavy, mayo-based slaws, then you'll love this bright, crisp version. If you have a lime or two, substitute some of the rice vinegar with lime juice. Thinly sliced radishes, turnips, or carrots (once they're ready---only tiny babies in the ground at the moment) would also be a lovely addition to this slaw.
Ingredients:
- 1/4 cup unseasoned rice vinegar
- 2 tsp sugar
- 1 tsp finely grated ginger
- 2 tbsp vegetable oil
- 1 fresh hot chile (serrano), finely chopped (include seeds if you want the spice)
- 1 small head Napa Cabbage (about 1 1/2 lbs), cored & cut cross-wise into 1/2 inch slices
- 1 spring onion or 1 bunch scallions, thinly sliced
- 1/2 cup coarsely chopped cilantro
- a handful of black or white sesame seeds, toasted (optional, for garnish)
- salt to taste
Method:
Place sliced scallions or spring onions in a small bowl with the vinegar. Let sit for 10-15 minutes.

Remove macerated onions and set aside. In the bowl with the vinegar, whisk together the sugar, ginger, chile, and at least 1/2 tsp salt. In a larger bowl, toss the sliced cabbage with the macerated onions, the chopped cilantro, and the dressing. Taste for salt and acid and adjust. Let sit for at least 10-15 minutes or longer, before serving. Sprinkle with toasted sesame seeds and enjoy!