ROSELLE GREENS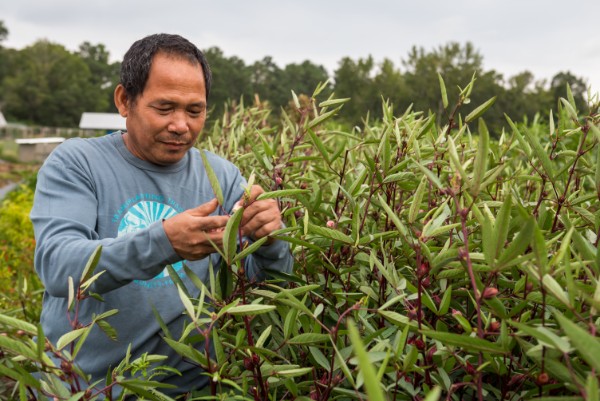 Photo Credit: Anna-Rhesa Versola
Burmese call this green chin baung ywet, but it is known in English as roselle, a variety of hibiscus that nearly every Burmese-tended plot in the garden seems to be carpeted with. These greens are popular for their sour, lemony flavor and their positive effect on blood pressure.
Chin baung kyaw
a traditional Burmese dish of Fried Roselle leaves with bamboo shoots
Tips: the roselle leaves cook down significantly, so you need a lot of them. Also, don't be ashamed to reduce or leave out the shrimp paste. It adds a depth of funkiness that's too much for some, and which you can get as close as you want to with the fish sauce.
INGREDIENTS:
A big bunch of roselle leaves, stems removed (about 4 to 6 cups)
8 cloves garlic
5-8 red Thai chiles (or any other hot variety like cayenne)
A large white onion, chopped
1/2 t turmeric
3 T peanut oil
One 19-ounce can of shredded bamboo shoots, drained
1/2 t shrimp paste (aka ngapi, kapi, belacan, mam nuoc)
2-3 T dried shrimp
Fish sauce, to taste
One bunch of cilantro, chopped
DIRECTIONS:
Toast the shrimp paste for a minute or two in a hot wok. Remove and mix with one tablespoon hot water. Soak the dried shrimp in warm water for about 15 minutes. Drain and dry, then put them through a food processor until roughly crumbled. If you have a mortar and pestle, pound the chiles and garlic to paste. If not, puree them in a food processor with the onion. Turn the wok to high, and when it begins to smoke add the oil. Add the onion-garlic-chile paste and stir-fry for a minute or two. Add the dried shrimp, shrimp paste, and roselle leaves and stir-fry until wilted. Season with fish sauce, and take off the heat. Stir in cilantro and serve with rice.
Tri Sa's Roselle and Potato Soup

INGREDIENTS:
Roselle, de-stemmed and chopped
Lemongrass, thinly sliced
Lemon Basil, thinly sliced
Garlic, minced
Potatoes, cut into 1″ pieces
Salt
Olive Oil
Heat a generous amount of olive oil over medium heat and add the chopped roselle and stir until wilted. Meanwhile, boil about 4 cups of generously salted water and toss in the chopped potatoes. Add lemongrass and garlic to the water. Once potatoes are tender, take soup off the heat and add the roselle and chopped lemon basil. Salt to taste.
NOTE: This would be extra delicious made with chicken broth instead of water.