TOSCANO KALE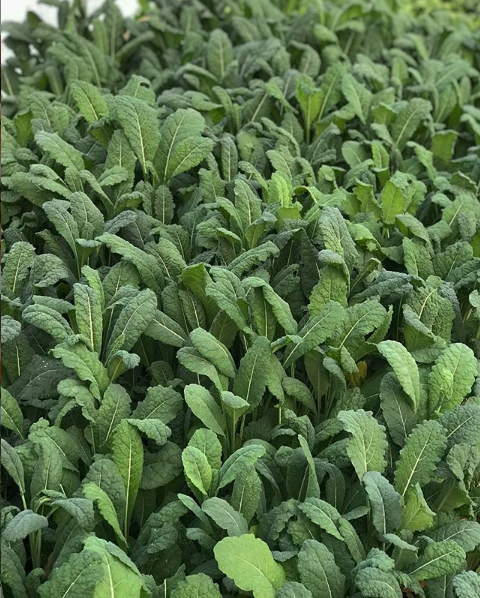 Credit: Tha Dah
DESCRIPTION: Kale has been very popular in the local food scene for a long while now. So much so, that many people have overlooked the mighty collard. For those who just love greens, they'll use kale and collards interchangeably. For true collard lovers, they would never cook kale in place of collards.I happen to love both and I love them in part because they are different. I do often use them interchangeably because that's how I cook---I use whatever I have on hand. Kale and Collards are close relatives and are both packed with Vitamins A and C. They are both cold tolerant and often improve in flavor after the first frost (they become sweeter).
Recipe from the farm:
The Kale (or Collard) Salad That Started it All
Serves 2-4
From Joshua McFadden's "Six Seasons"

There are many ways to make a good kale (or collard) salad but this is the best one yet. And the dressing is good on loads of other salads too: try it on arugula, lettuce, or salad mix.
Ingredients:
1 bunch of kale, any variety works, but Dino/Lacinato Kale is best for this recipe (thick ribs cut out) OR collards
1/2 garlic clove, finely chopped or pounded into a paste
1/4 cup pecorino or parmesan cheese, finely grated (plus more to garnish)
olive oil
juice of one lemon
1/8 tsp dried chile flakes
1/4 cup breadcrumbs (made from whole grain bread)
salt and fresh ground pepper to taste
Method:
Make the breadcrumbs (can be done ahead of time---we like to make a big batch to have on hand in the freezer):
Heat oven to lowest setting (about 250). The better the bread the better the breadcrumbs. Take a good whole grain loaf. Cut into 1/2 inch thick slices, leaving crust on. Cut slices into cubes and spread out on a sheet pan or two. Bake until fully dry but not browned (may take up to an hour or so, depending on how moist the bread is).

Cool fully and use a food processor to turn it into crumbs. In the end, you want them to look like Grape Nuts. You don't want them to turn into a powder, so you may want to stop once or twice and shake through a colander and then continue to crush the remaining bigger pieces. Store fully dried crumbs in an airtight container for a few weeks or in the freezer for a few months.

Make the salad:
Stack several de-ribbed kale leaves on top of one another and roll them into a tight pile. Slice crosswise into very thin ribbons (this is called a chiffonade). If it needs washing, put the kale in a salad spinner, rinse in cool water, and spin until completely dry. Pile the kale into a big bowl.

Make the dressing:
Pound the garlic and a pinch of salt in a mortar and pestle, or chop it finely and use the side of your knife to smash it into a paste. Transfer the garlic paste to a small bowl, add 1/4 cup grated cheese, a healthy glug of olive oil, the lemon juice, chile flakes, 1/4 tsp salt, and plenty of black pepper, and whisk to combine.

Dress the salad:
Pour the dressing over the kale and use clean hands to toss well to combine thoroughly. If the kale seems a touch tough, you can 'massage' it by squeezing it a bit between your fingers. If the kale is tender, just tossing is fine. Taste and adjust with more lemon, salt, chile flakes, or black pepper. Let the salad sit for about 5 minutes so the kale softens slightly. Top with the bread crumbs, more cheese, and drizzle with more oil.