WATER SPINACH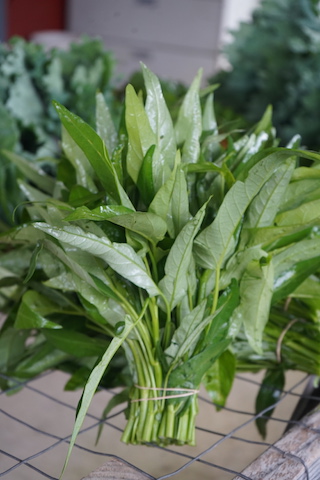 Photo Credit: Tha Dah Wah
DESCRIPTION: When it gets too hot for most spring greens like kale, chard, and collards, they fade in the blazing sun to make room for their heat-loving Asian cousins like water spinach. TTCF farmers love growing Asian greens for their customers and for their families. Water spinach is a very popular green that you can cook much like you would regular spinach. It is delicious in a stir-fry or sautéed over high heat with some garlic and ginger.
Cooked water spinach has a nutty flavor and silky texture. You can eat the tender parts of the stems and all the leaves. Start by chopping off the largest parts of the stems and toss those in the compost. Then chop the more tender part of the stems into small pieces and finally give the leaves a rough chop. Heat some oil in a skillet or wok, add plenty of minced garlic and ginger, if you have it, and a minced chile if you like. The stems will take longer to cook than the leaves so toss them into the pan before the leaves to give them a head start. Cook, stirring, for just a few minutes until wilted and tender. If adding to a soup or curry, toss the leaves in at the last minute, as they cook very quickly.
STORAGE: Store in an open bag in the veggie drawer of your fridge. Eat water spinach within 3-4 days.
RECIPE: Jen's Egg Drop Soup with Water Spinach
•2 quarts chicken or mushroom broth
•1 ½ tbsp soy sauce
•¼ tsp white pepper (optional)
•½ tsp crushed red pepper flakes (optional)
•4 cloves garlic, minced
•1 small onion, diced or sliced thin
•1 tbsp olive oil
•3 eggs, beaten
•Handful of sliced green onions
•1 cup chopped spinach, water spinach or swiss chard
•Note: This recipe is versatile. You can add in different vegetables, like diced turnips, summer squash or daikon radish and it works wonderfully every time.
Heat the olive oil in a pot over medium heat. Add the onion and red pepper flakes and cook until the onions soften up a bit, about 7 minutes. Add the garlic and cook 1 more minute. Add the soy sauce, chicken broth,and white pepper and bring to a low boil over medium high heat. Once it's boiling, stir the broth as you pour in the beaten eggs. Pour slowly – it should make ribbons of cooked egg. Turn the heat off and stir in the spinach. Let it sit for a minute until it wilts. Add the green onions and serve.